Best Multiplayer Games : Gaming online is really evolving with every day passing by and right now people can play with others online while they are sitting at the comfort of their home. The quarantine period has drawn so many people towards games and the multi-player games among them have gained huge popularity.
People can play games with each other although they are not together and this is giving a closer feeling to the quarantined people. As most of the countries across the world have announced lockdown, it is important for people to know the different types of online multiplayer games that they can play. This will help in killing boredom and at the same time to become close to their friends and relatives as well. Make sure to read the article to know the best games that you must have on your phone.
Top 10 Best Multiplayer Games to Play On Android & iOS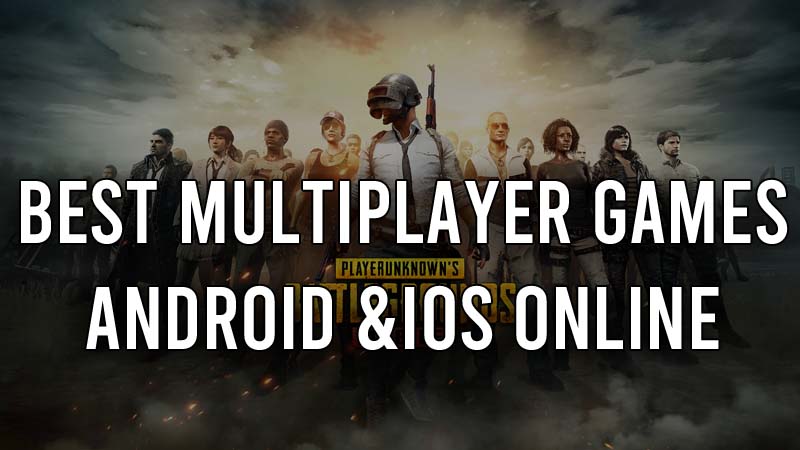 Modern Combat 5
If you are someone who loves fighting and guns, then Modern Combat 5 can be your go to option. Gameloft has created the best game for people who love adventures and guns. Everything in this game is of top notch. From the concept of game to the graphics, you will enjoy every minute that you spend playing them game for sure. If you love FPS, then this game is for you only. It is great fun and adventurous at the same time.
Features
It offers voice chat where you can talk and comment about things online with the help of third party applications like Discord.
This game can also be played in computer and the PC should have either Microsoft 10 or Microsoft 8.1 version in it.
The game has Apple Watch Companion application that stresses about multiplayer of this game.
Glow Hockey
Hockey is a famous sport and there are so many people who love it. However, with the lock down effect, it is not possible to play hockey outdoors. But this is not something that you have to worry about because you can enjoy the hockey game staying indoors too. The Glow Hockey is an interesting game where you have to put puck into the opponent's hole.
You will be using all the techniques you know in order to get the puck into the hole and earn some points. The game is fun and will keep you hooked all the time. Some of its great features are
Features
Realistic setup and physics
The playing environment is pretty smooth and highly responsive.
The glow graphics is amazing and will give you a different kind of experience.
This game is available for both Android and iOS devices.
Cops vs. Racers
If you are someone who loves cars and enjoy racing games, then this one is for you. You can either be a racer or cop to play this game. You will get to enjoy racing out on the roads with high end cars with this amazing racer game. It is simple yet interesting enough to keep you entertained all the time.
The amazing cars' collection of this game deserves special mention. It is of top notch and if you are a car lover, then you have to check out this game for sure.
Features
Graphics and visual effects of this game deserves a special mention.
There are multiple brands and cars available in the game.
You can either be a racer or police and enjoy the adrenaline rush pumping up in your body during the game.
Clash of Lords: Build Castle
War games are fun and have been loved a lot by the folks out there. This Clash of Lords: Build Castle is one such game where you will get to go on a war on your opponents, build castles and what not. If you are interested in creating different types of war tactics and enjoy war kind of scenarios, then you must have this app on your phone.
Features
It is easy for players to control their heroes and the entire game action.
The graphics is top notch and even music in this game is interesting.
There are more than 10 modes of wars and players can pick any of them. This way they will get to shuffle and play in different kinds of environments with ease.
You can fight and win battles along with your companions.
It is possible to customize the heroes and pair them with Mercenary system.
The costumes and skills of your heroes can be boosted pretty easily.
Bomber Friends
This is a game for you if you are someone who loves fun games. You can actually vanish your friends from the game by dropping a bomb on them. The bomber friends' game is super fun and a great way to pass your time. It is simple and as you progress in the game, you will get powerful bombs to play with. The multiplayer arena in bomber friends will help you in making the most of your time by playing. 2-8 players can play this game and it is going to be a fun experience for you.
Features
There are different kinds of worlds with various characters.
The sounds effects in this game are quite funny and you will enjoy playing with them.
You can upgrade characters and their skills.
Clash of Clans
This is an ever popular multiplayer game where people can build social connections too. The game has been one of the best since some years now and its live action movie is going to hit the big screens pretty soon. This game has more than 5 million downloads and there are players from across the globe who enjoy playing it. The game is completely free to download and play. However, there are some in-app purchases that you can go to or not. It completely depends upon your requirement. If you are looking for an interesting game to play with your friends, then Clash of Clans can be your  go to option.
Features
Construct your own village.
Use different spells, traps, cannons, troops and bombs, etc.
Create a clan for yourself and lead them.
PUBG Mobile
The best online multiplayer game is incomplete without PUBG Mobile. PUBG has evolved as one of the favorite games for millions of people out there. The game has so many interesting things that made it one of the top 10 games. The war field, different upgrades, amazing gear, vehicles, and destroying the enemies, PUBG is one such game that has everything that an action game lover would want. The game is fun and will keep you hooked for hours without any hassle. You can form a squad and destroy your enemies in the game.
Features
You can go with your squad, alone or with your partner.
The 3D sounds along with HD graphics is worth mention.
There is voice chat in this game.
The entire game is fair and you won't find any cheating options here.
Ludo King
One of the most popular games in this quarantine period is Ludo King. So many people are in love with this game because of its nostalgic feels. The game has 2-4 player option where you can add your friends and enjoy the game. It is no fun if you just play for the sake of it right, that is the reason why Ludo King will offer you coins every time you win. It is like a reward that will motivate you to play.
If you are bored with the regular Ludo layout, you can change it and purchase new themes too. These themes can be brought with the coins that you have won or with the original money too. In case, if you don't want to spend either of them, you can complete the tasks and win these themes. Either way, it is a fun game and you will enjoy spending time on it. The best part of Ludo King is that you will get to play with strangers too and if you are too bored to play with people, you can play with the computer.
Features
The game is 2-4 player, you can play with your friends, strangers or even with computer.
Different Ludo Board themes will make the entire game fun.
Fortnite
Fortnite is another battle game that will keep you hooked. The game is fun and uses cartoonish graphics.People who love action games will spend hours and hours playing this game. The primary motto of Fortnite is to shoot the enemies and for this you can prepare your own squad.
The amazing design, all the adventures that your character gets to play and spending some fun time with your friends in the field are some of the interesting things about Fortnite. There are different game versions and you can pick anyone that you like.
Features
The game is split screen multi player.
You can build an entire system in the game.
Mini Militia
This is our final and most favorite online multiplayer games out there. This is fun and adventurous at the same time. This game has three modes- trainer, survival and multiplayer mode. You can form a group with your friends and play the game. It can accommodate up to 12 players and you have to remember that the multiplayer game is a little bit tough when compared to usual.
Features
You can play either solo or with your 6-member squad.
There are different maps that you can travel to.
You can customize the avatars according to your taste.