Pixel Gun 3D Game is an action packed Multiplayer shooting game which tests your survival skills and your creativity. Pixel gun 3D is a free game for Android, ios and Windows but also allows in-app purchases if you need it. While playing Pixel gun 3D you can easily customize your character and the cubic world any way you want. Pixel gun 3D has a Multiplayer mission as well as single-player survival mode in which the fight will be intense and bloody.
You can Transform realistic terrain in a 3D. Your end goal is to build a perfect cubic world that can keep you safe. The pixel gun 3D makes gaming on your device even more interactive with a variety of modes and allows you to play with your friends and other gamers all around the world. The Pixel Gun 3D has a technical advanced interface and graphically stunning design which makes for an addictive game play experience.
About The Game :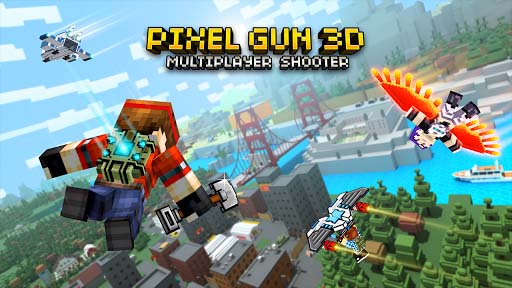 Pixel Gun 3D is well designed for ease of use through a variety of modes and levels on your smartphone. The app has a variety of maps that give you more than ever before for your playing fields. There are a wide range of weapons available including the golden desert eagle, Magic Bow, combat M16 rifle, lightsaber, knifes and much more. Each game can include up to 8 players in one arena, and users can use the chat function to talk to your friends and opponents during the fight.
There is a cooperative mode in which users can collect coins for prizes and compete for the top leaderboard. The survival mode allows you to play one-on-one with variety of opponents including zombies, cops, nurses, swat teams and so on. In this mode users are expected to kill all the opponents and be the only one surviving in order to win the campaign.
New features in the latest version of Pixel Gun 3D :
Special online training camp for new players.
Graphics quality has improved a great deal.
Maps now include forest and lots of new seeds.
Many new songs have been added to the game.
New campaign mode with many added features.
Skin maker allows you to create your own skin and use it in the game.
Download the Pixel Gun 3D Game :
Here is the easy method of downloading your favourite game Pixel gun 3D and enjoy the ultimate the gaming experience.
For Android users:
Go to google play store.
Search for Pixel Gun 3D.
When you find it, simply click the install button and accept the terms and conditions.
After the installation is complete open the newly installed Pixel Gun 3D game.
Play your favourite game.
For ios users :
Go to the app store.
Search for Pixel Gun 3D.
When you find it, simply click the install button and accept their terms and conditions.
After the installation process is complete open the newly installed Pixel Gun 3D game.
Play your favourite game.
Play Pixel Gun 3D Game online:
With the above method you need to download the Pixel Gun 3D game its now your turn to run the game online in your device. It is easy to play Pixel Gun 3D by following the below steps.
Open the Pixel Gun 3D game.
Create a free account online and register with a username and password.
Bingo!! you will now have the access to play the game online.
Tips for new players :
Never stay still as that makes you an easy target for other players and zombies.
Always aim for a headshot.
Use the pixel gun early on but avoid the combat knife.
A flamethrower is probably the best close-range weapon.
Never scope at closer range with your sniper rifle.
For players who want to buy weapons with the coins, Marksman is the best choice.
Purchase Katana as soon as possible to take control of melee situations.
The prototype is a brilliant sniper troop.
Play co-op survival mode to get a lot of coins which can be used for purchases.
Final Review :
Pixel Gun 3D is a lot of fun when you play online. It gives you a chance to build and be creative while fighting with other players and surviving zombies at the same time. If you are a fan of Minecraft, download Pixel gun 3D on your mobile right away. you will spend hours playing in this competitive 3D cubic world. Check out Knowaltech for more topics on android & ios Games.